SHOP MARBLE FOR LESS THAN £10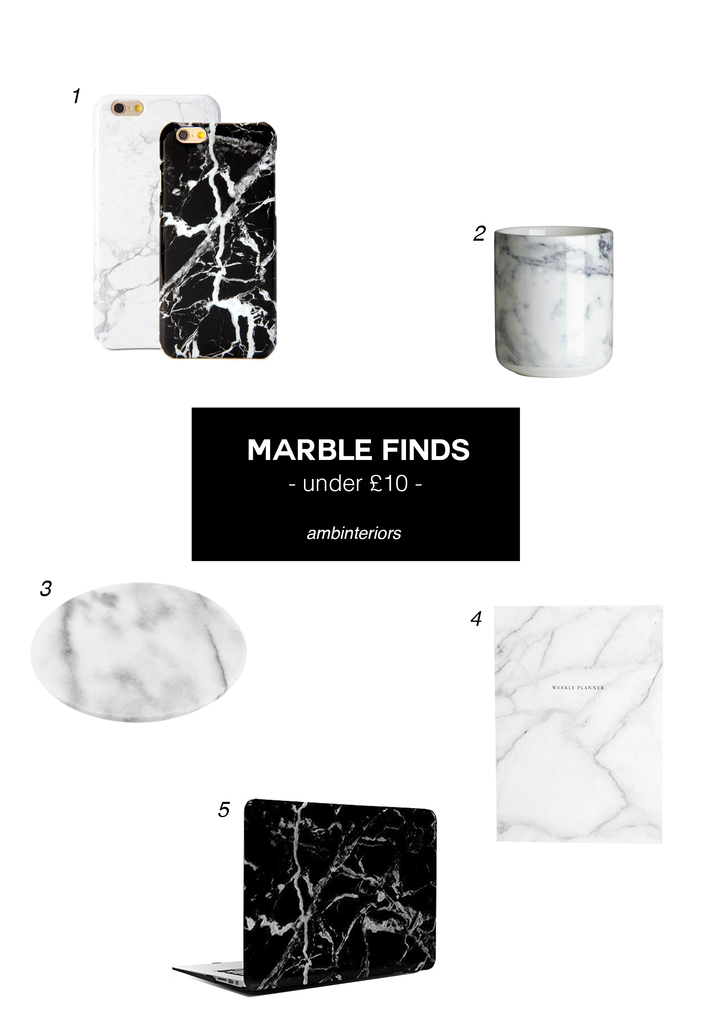 I have come to the conclusion that I am a marble addict and having cleaned my work space last night, I have noticed that I own quite a few marble things. I adore this beautiful veined texture and I have even rambled on about how much I love it in my previous posts. Just incase you have missed them, then check out how I "pimped" mynotebook and iPhone with the use of these inexpensive DIYs. Anyways, my marble obsession has gotten out of hand and I have purchased a few other bits and bobs. So I thought to myself what a perfect excuse to write about my love for marble and share with you all affordable marble accessories that I personally think everyone needs in their lives. And bonus they are less than £10!!
1. Finally a iPhone cover with a marble design that I like! *adds to basket*
2. Add a little luxury to your workspace with this cup. Could be used for your pens/pencils.
3. Thinking to swap my marble board for this polished round platter
4. An item you've probably seen snooping around my Instagram account. Can't get enough of how pretty this weekly planner is.
5. So this marble laptop case is only £4.98 over but its just too gorgeous not to mention.
I think I'm going to be sharing a marble DIY real soon. In the mean time let me know what marble pieces you're marveling over. I would love to see them
Stay gold
Amni xo